Uoolu Global Selling Store 2.0 Version Helps Property Sellers Realize Self-Marketing Worldwide!
Uoolu Global Selling is a technological solution that helps global assets cooperation partners, including developers, agent companies and agents, to establish globalized marketing and promotion; by building an online store, you can realize online contact, communication and property transactions with cross-border investors in 135 countries and in 13 languages across the globe, which is the first step needed to take before expanding the international market!
Different from other property listing platform such as globallistings.com, which only sets out property information one by one, Uoolu Global Selling Store always offers our partners systematized solutions to actualize property listing, customer management, as well as other online supporting services, so that they can resolve various selling and marketing problems just by one account and at a very low cost!
Good news is, the wholly updated Uoolu Global Selling Store 2.0 version now is launched with the following brand-new functions built for cross-border property sellers to create their own promotion media and do self-marketing at both PC terminal and mobile end!
(I) Post Customized News: an exclusive posting weapon created for property publicity
In Uoolu Global Selling Store, now you can post all the news related to your property projects, such as local real estate news, property purchasing guidance, project construction progress, sales progress, brand P&R, home project campaigns and so on. The posted articles will help attract more traffic to your online property selling store to get more intention buyers, and constitute your company's exclusive projects and IP!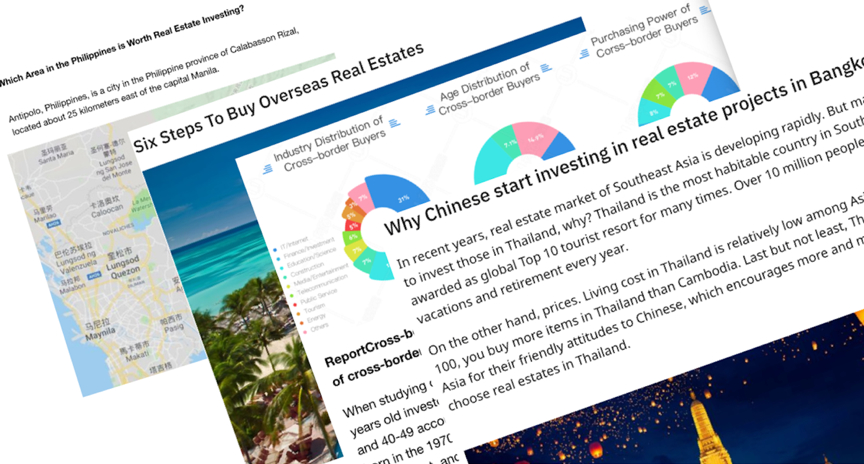 (II) Repost Properties: another way to efficiently maximize property promotion
Thanks to Uoolu's powerful algorithm, now you can repost your properties online to reach internet users and intention buyers who browse property projects and other relevant information in different time frames every day as well as during traffic peaks. By well-arranged posting schedule and quality content, you'll be able to raise your properties' rankings, increase organic traffic, and expand your company's popularity!
(III) Upload Short Videos: transnational home examination, closer, more authentic and comprehensive
Now you can upload about 1-minute short videos related to your properties onto Uoolu Global Selling Store, such as sand table explanation from sales center, show room examination on the site, home project interpretation, real-time live videos about surroundings and supporting facilities, etc.
The short videos will be synchronized to Uoolu's APP end and bound to your properties on the project detail pages to attract more visits and acquire more buyers, which totally overturns the traditional display method in project marketing towards international users!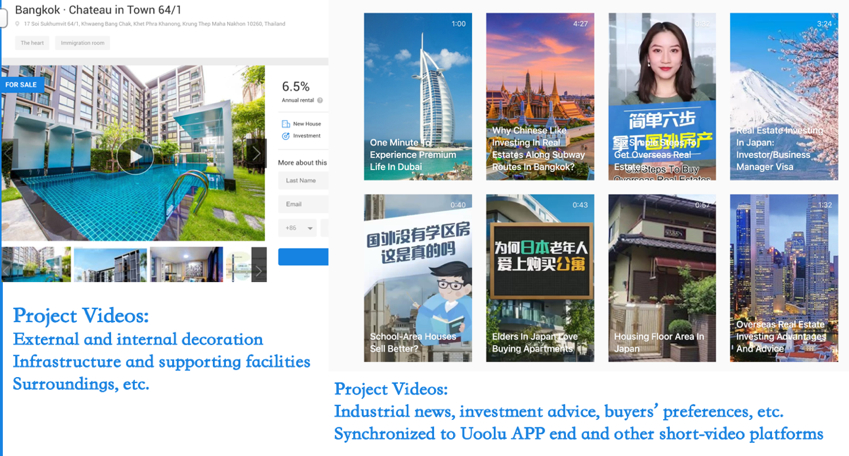 (IV) Download Data Report: timely understanding of global real estate development trends
Uoolu Global Selling Store has newly launched the function of Marketing Downloads, which keeps uploading data reports to help cross-border real estate sellers obtain an all-round understanding of real estate markets across the globe! Now you can download real estate and immigration reports issued by Uoolu Glocal Real Estate Research Institute and other authoritative third-party media online, all for free! Under the help of professional insights gained from statistical changes in big data of the global real estate industry, you'll truly grasp global real estate development trends and seize future business opportunities before others do!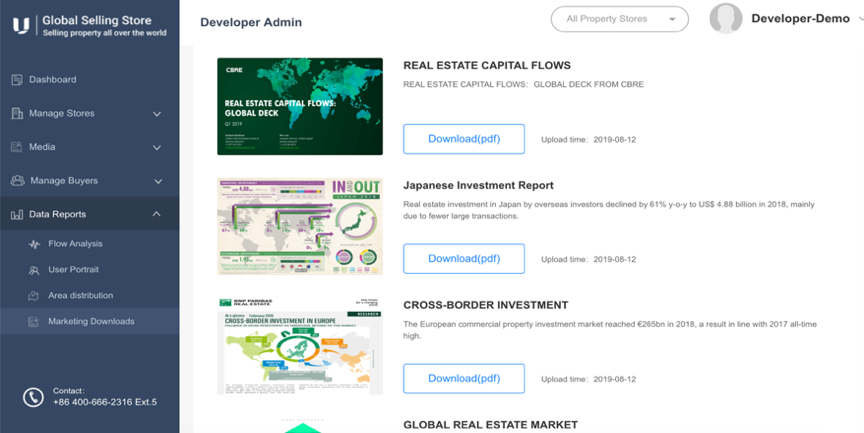 By virtue of above new functions, Uoolu Global Selling Store will enable millions of real estate developers, agents and agent companies to obtain more desirable visits, buyers and sales goals, and will continue refining online supporting services and solution systems at both PC and mobile ends to embrace more participants and partners.
At present, uoolu.com, the world's leading cross-border real estate internet platform, covers millions of high-quality properties across 30 countries and 125 cities, and has hit 3 million monthly active users worldwide. More than 1000 global developers have chosen Uoolu to realize cross-border property listing and online services.
Under the current trend of globalization, Uoolu is connecting to global investors and sellers efficiently with an innovative business model that is online and data-based, and will further focus on providing information and solutions for global investors and helping them to allocate assets more safely and efficiently.
Tel: +86 400 666 2316 Ext. 5
E-mail: globalselling@uoolu.com
Websites: https://seller.uoolu.com
Facebook: Uoolu