Uoolu.com and PropertyGuru Released 2019 H1 Global Cross-border Real Estate Investment Data Report
With the broadening of the global perspective, the flow of cross-border assets, especially real estate investment, is also moving towards a global stage.
Since the official launch of Uoolu Global Websites which cover 135 countries and regions, Uoolu's user database has been constantly updated, and shifted to some of the major cross-border real estate investment countries. In the first half of 2019, a large number of asset-allocation investors, represented by those from China, are looking for asset habitats around the world, and the demands for home purchase have begun to spread from investment to education, retirement, immigration and other multiple dimensions.
At the same time, Uoolu found that as an outstanding representative of emerging markets, Southeast Asia not only enjoys a rapid economic growth, but also a real estate market that is also very attractive to global investors.
Against the backdrop, uoolu.com and Singapore PropertyGuru Group have integrated property investment data from six Southeast Asian countries, i.e. Thailand, Singapore, Malaysia, the Philippines, Vietnam and Cambodia, to provide an in-depth analysis of the property investment market in Southeast Asia.
Under the trend of globalization, Uoolu is willing to use professional data analysis to provide global investors with new perspectives and new options for real estate investment.
1. Portrait of Cross-border Investors: Chinese investors lead, followed by U.S. and Canadians
The United States, once the No.1 source of cross-border home purchases, is now making way for Chinese investors. In recent years, with China's growing economic strength, Chinese investors' perspective has moved closer to a global stage. In the first half of 2019, Chinese investors beat the United States, Canada and other countries to become the No.1 source of cross-border home purchase. In addition, Singapore investors, as well as Indians and Japanese are taking over the global market with a comparatively fast speed.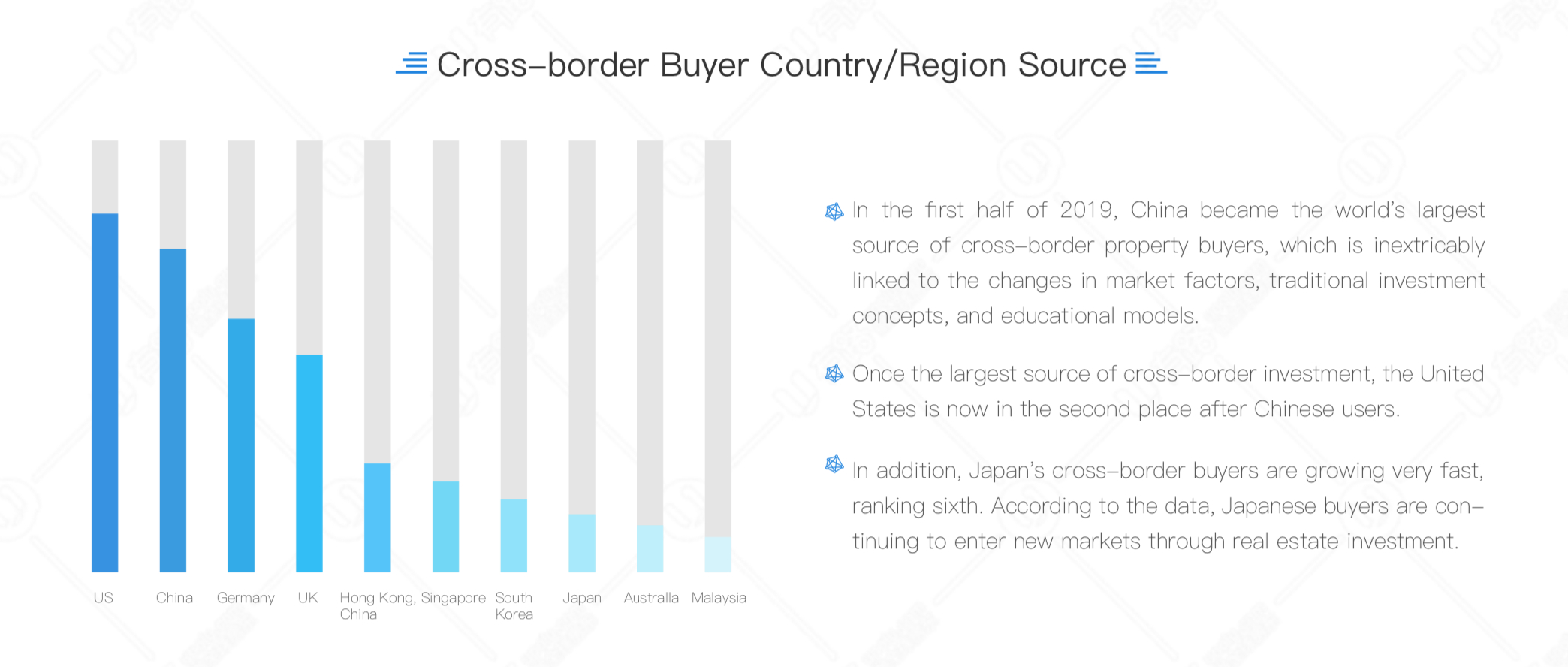 2. Analysis of Demands: Investment still dominates, and develops into education, retirement, immigration and other multi-dimensional demands
Investment, immigration, education, own-use/tourism and medical/retirement together constitute the five main drivers of cross-border home purchase. According to the Uoolu 2018 Ten Countries on One Belt and One Road Property Investment Data Report, among Chinese Investors, the proportion of investment-oriented buyers accounted for 68.85%. This number rose to 71.3% in the first half of 2019, reflecting the growing demand for investment-oriented asset allocation under the trend of globalization.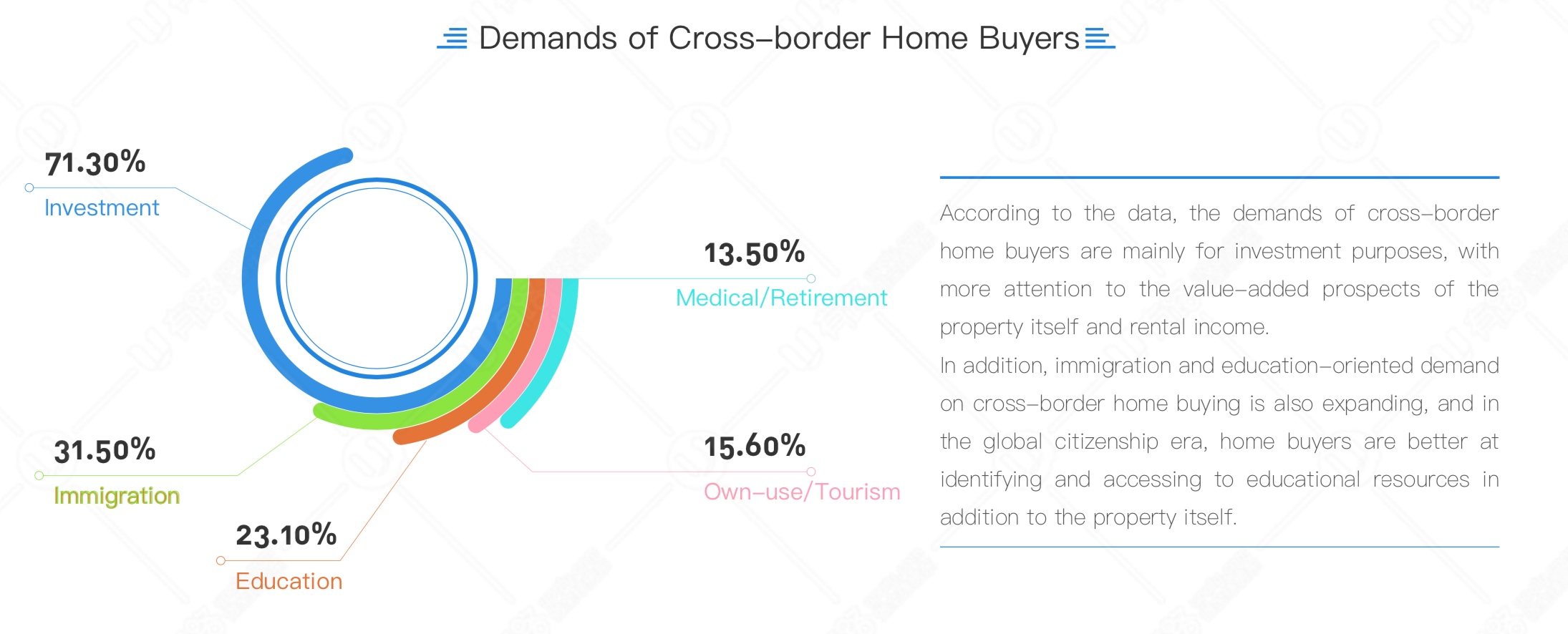 3. 30-50-year-old become the backbone of cross-border home buyers
Investors aged 30-50 accounted for 78% of the total, with 48.3% of investors aged 30-39 and 29.7% of investors aged 40-49.
Born in the 1970s and 1980s, this generation is now one of the supporting forces of social economy and wealth. Through analysis, Uoolu find that the industry distribution of cross-border home buyers are mainly concentrated in the Internet industry, the financial industry and the education and scientific industry, this part of the investors usually have more advantages in access to overseas investment information.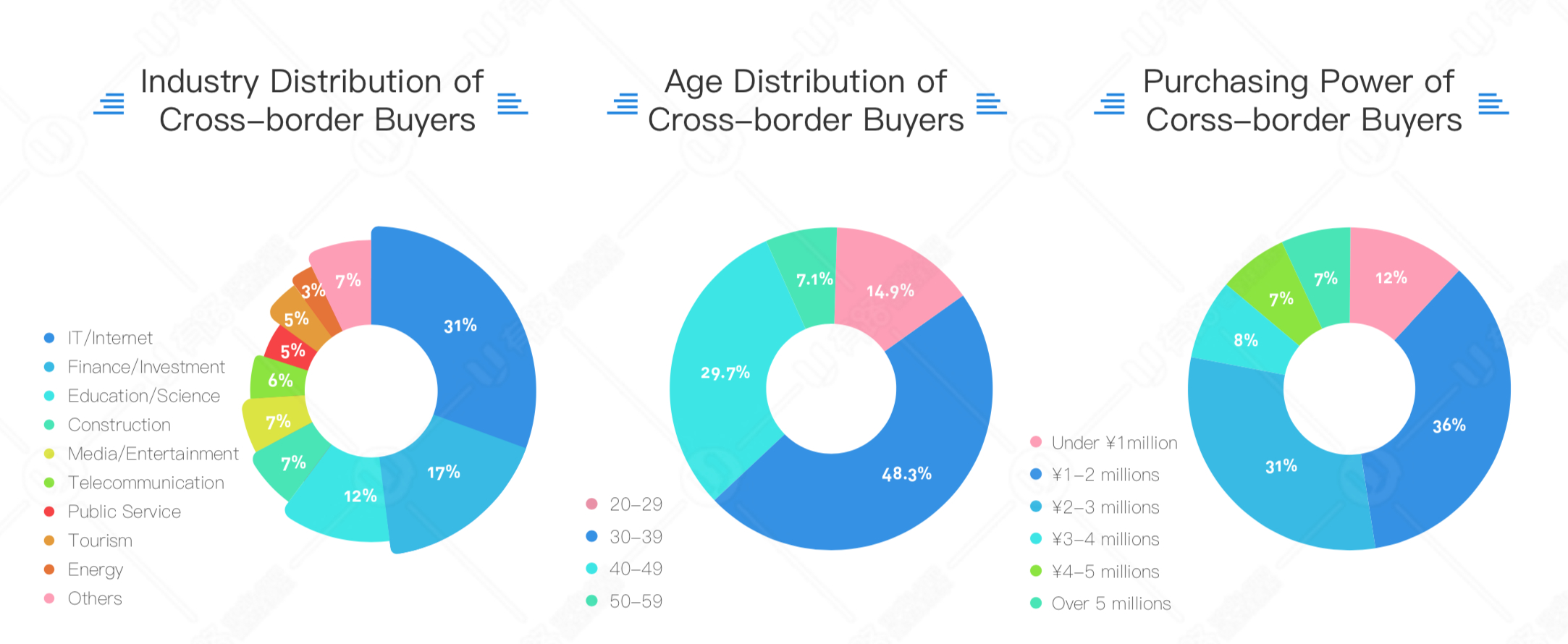 4. Top investment destinations across the world: Thailand is firmly in the top spot, and Japan is on the rise
In the first half of 2019, according to the number of inquiries of Uoolu users, the Top10 destination of cross-border real estate investment are seen.
Among them, Thailand continues to be the firmly hottest destination, at the same time, Japan rises with an extremely fast speed. In recent years, with the steady development of the economy and the mature real estate market, Japan has been favored by global investors. In the first half of 2019, Japan ranked second among the top destinations for cross-border investment, after Thailand.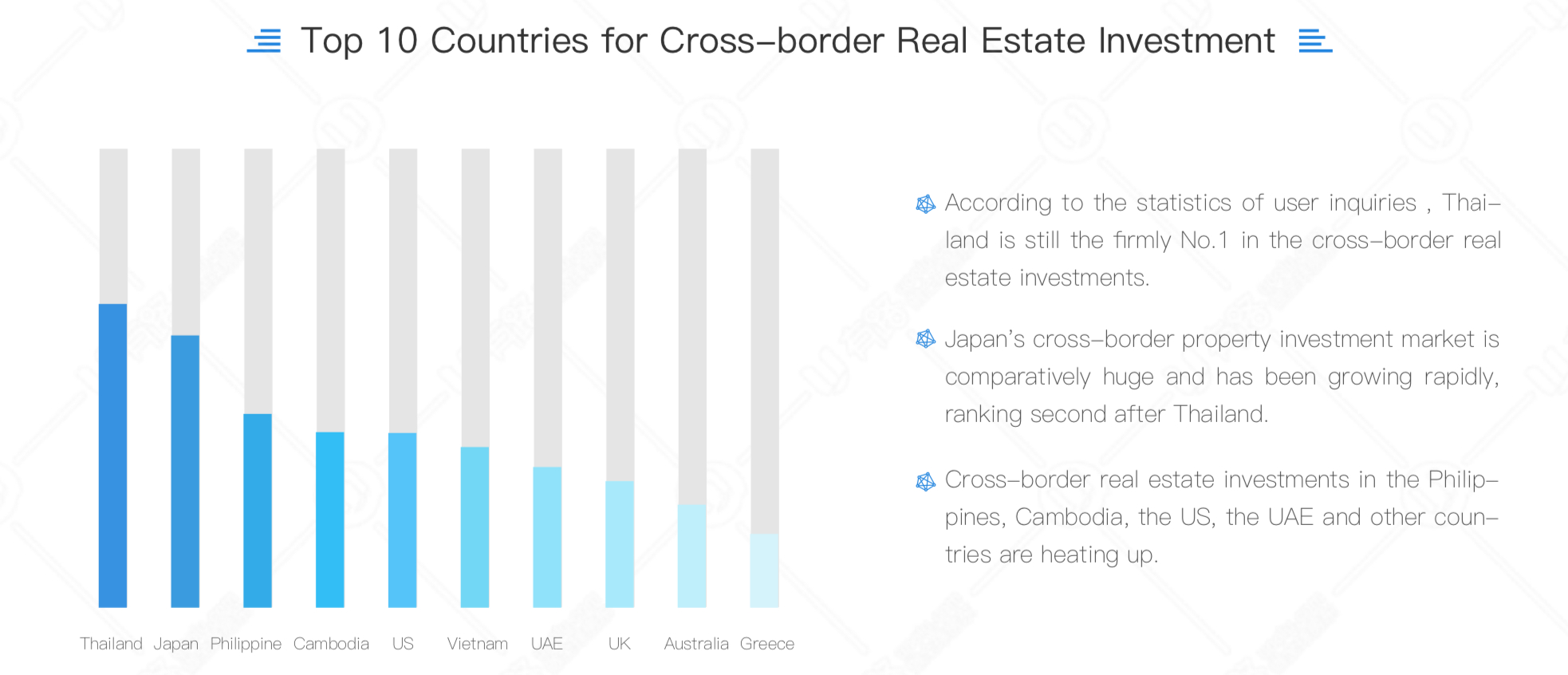 5. In-depth analysis of real estate investment of Southeast Asia countries
Under the trend of globalization, the rapid economic growth as well as the value of real estate investment in Southeast Asian countries are becoming more and more prominent. In this sector, Uoolu combined with PropertyGuru's core property data in Thailand, Singapore, Malaysia, as well as Uoolu's database in Philippines, Cambodia, Vietnam, to present the Southeast Asian real estate investment core index.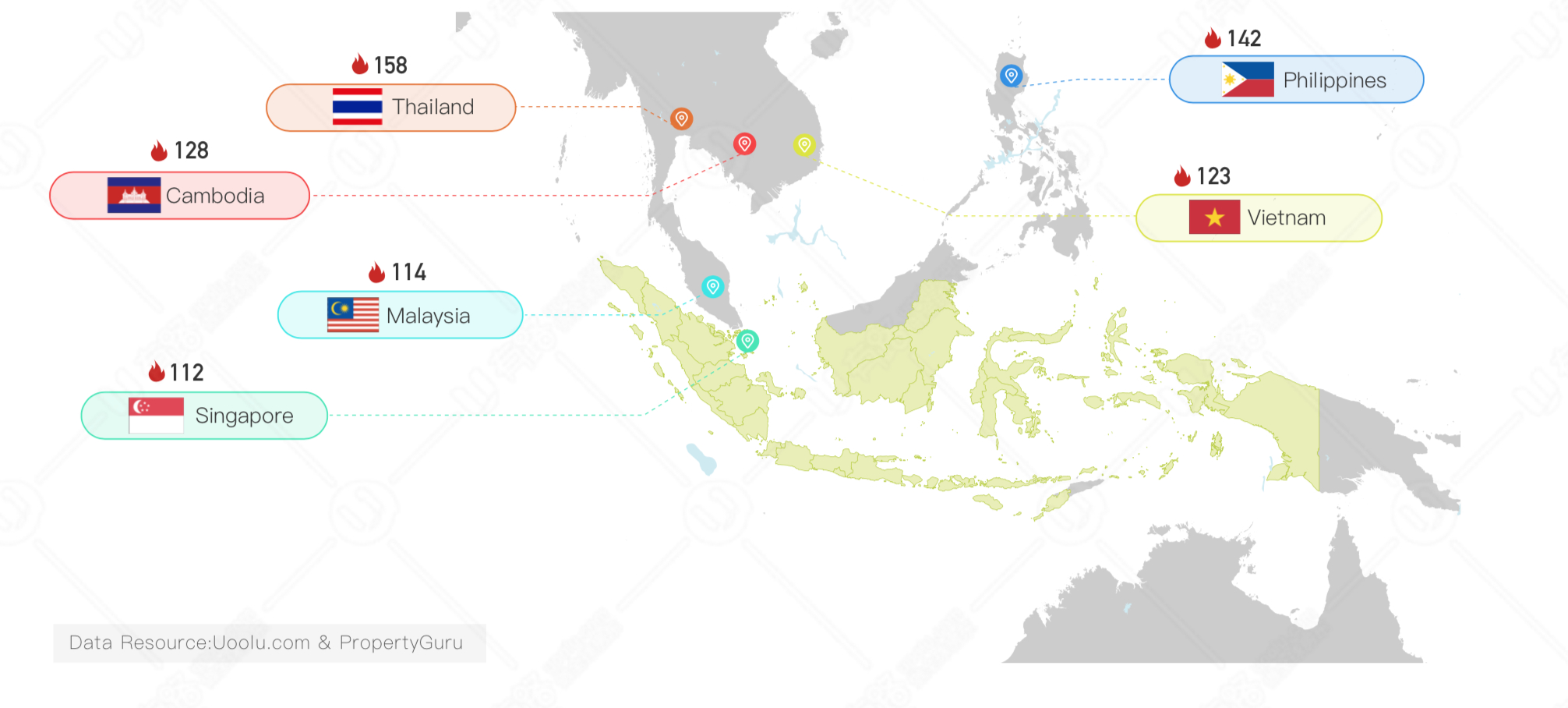 In the first half of 2019, Thailand remained the most high-profile property investment destination in Southeast Asia, with a sharp upward trend in the property concern index from January to June. The Philippines, has also risen sharply on the back of multiple positive factors such as the government's large infrastructure, the continuing explosion of demographic dividends and rapid economic growth. Vietnam, Cambodia as the most growth of the real estate investment market representatives, the performance is equally good, in addition, Malaysia, Singapore as a relatively mature real estate market system, its attention index as a whole is relatively stable.
-Rankings of Southeast Countries
House price growth and rental income, two of the most important indicators of property investment, are very considerable in the Southeast Asian market.
In the first half of 2019, prices rose well in major Cities in Southeast Asia, represented by Ho Chi Minh City of Vietnam, with its winning the top flight with a growth rate of 21.6%, making Vietnam the most growing real estate investment market in 2019.
House prices in Kuala Lumpur and Manila have also risen by more than 10 per cent, while Singapore's housing price growth prospects in recent years have been grim.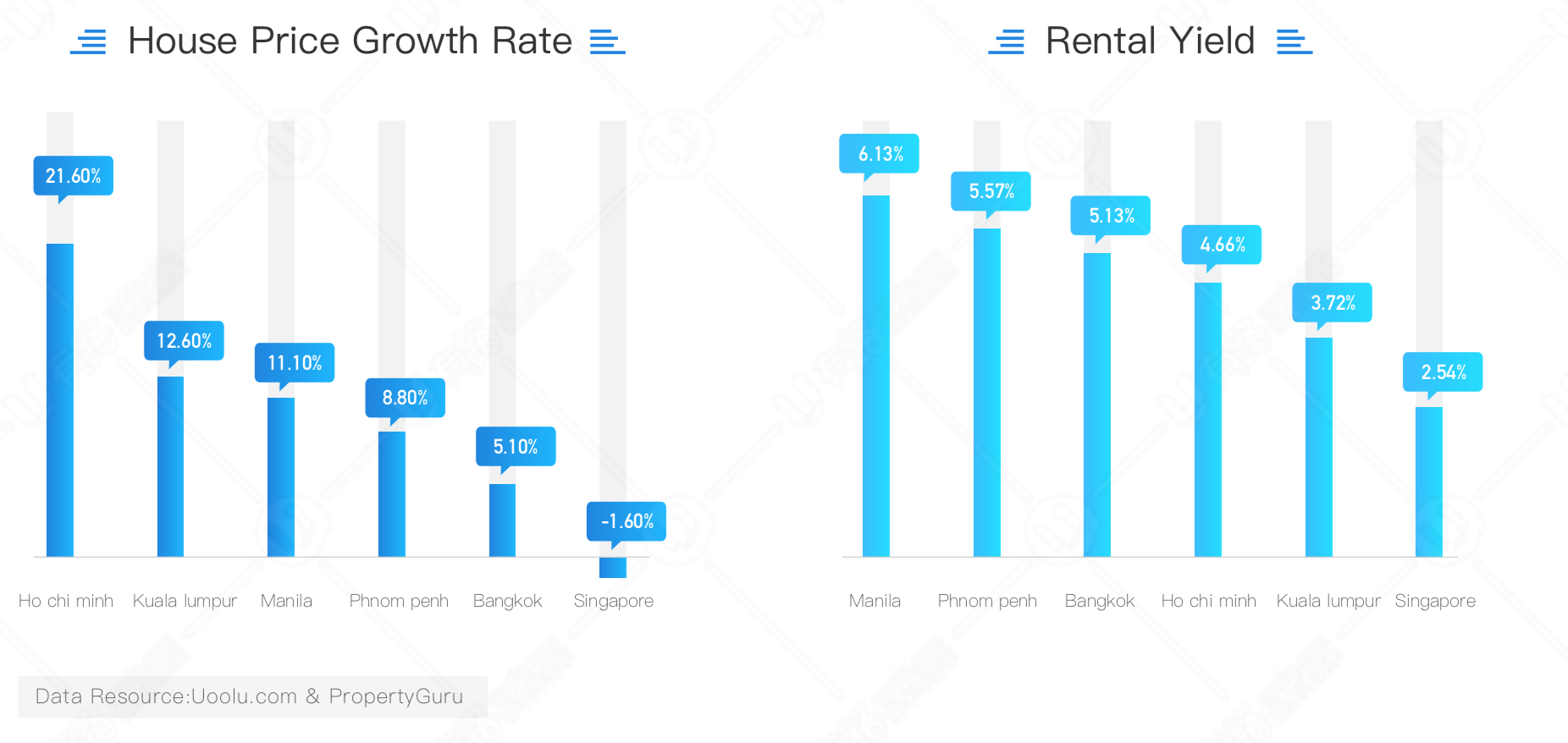 Rental yield is also an important index to measure the value of properties, which is influenced by local population, policies and other factors. Manila, the capital of the Philippines, officially surpassed 25 million people in 2019, making it the most populous city in Southeast Asia, and a strong and sustained population dividend continues to stimulate the local housing market, with a steady increase in house prices at around 10% a year, but also a considerable rental yield ratio, with 6.13 percent in the first half of 2019. At the same time, Phnom Penh and Bangkok also enjoyed over 5% rental yield.
Follow us to get the complete data report:
Facebook: Uoolu
Twitter: Uoolu Overseas Real Estate Investment
Linkedin: Uoolu